Your designs in the real world
If you are the type of person who does not settle for what there is, you are one of us. At Synamodec we help you build your designs, your prototype or simply your idea. Manufacturing custom synthesizers, effects, and other elements of the audio world has been Synamodec's mainstay for the past few years. We help design the synthesizers or effects that you propose, either from scratch or using pre-existing circuits. Over the years we have manufactured complete analog systems that are distributed throughout the world.
Our creation process is completely personalized. From the first minute the client participates in decision-making, defining the functionalities, circuits or aesthetics. Everything under his control.
Manufacturing times depend on the complexity of the project.
Let's talk. We love to invent with you.
1. Tell us your idea
Let's chat about what you're looking to build and see if our team is a good fit for the project.
Take a look to our contact page.
2. Proposed time & budget
We'll take a look at all the details of your project and discuss how time & money will cost. Obviously, the complexity of the work determinates the time and money needed. But don't be afraid! The prices we manage are very reasonable!
3. Pay 50% in advance and start work.
When you accept the quote, we will send you an invoice to deposit an amount of money in advance. Generally 50%.
4. Deliver and tests
We will be in contact throughout the manufacturing process. Once finished, you must pay the total for the product and we will send it to you. Now you just have to enjoy!
Hear you can see some designs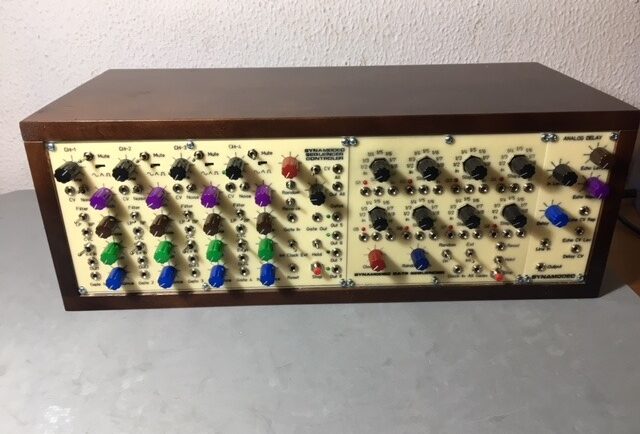 Titan I
Designed by Mariano Lozano-Platas.
It's basically a sequencer with 4Vco [with 3 waves + Noise] + 4 envelopes + 4 filters, all in one. CV to Tone, and to Filter. It has Gate outputs per Channel and audio, as well as general outputs of both. The system supports 8 channels.
Hear it here.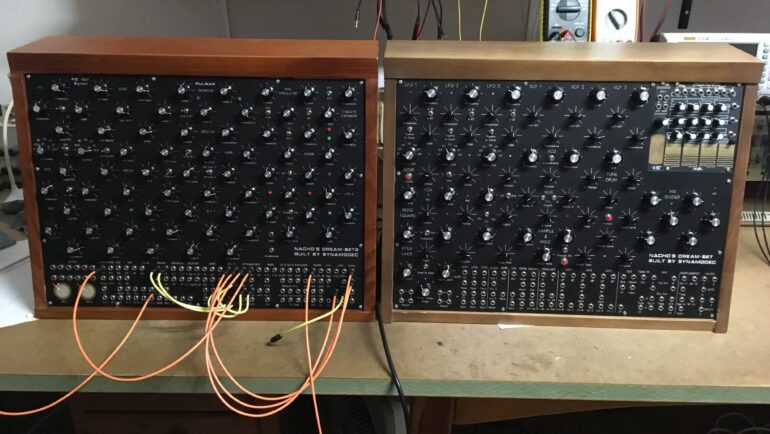 Nacho's dream
Designed by Ignacio Sanz Santas.
Huge analog synth with a lot of features: 3 LFO, 1 TONE-DRUM, 3 VCF, 1VCO, 1 ADSR, 1 VCA, 1 MIX-divider, 1 STEALAES, 1 SAMPLE & HOLD …
Big, heavy and unique.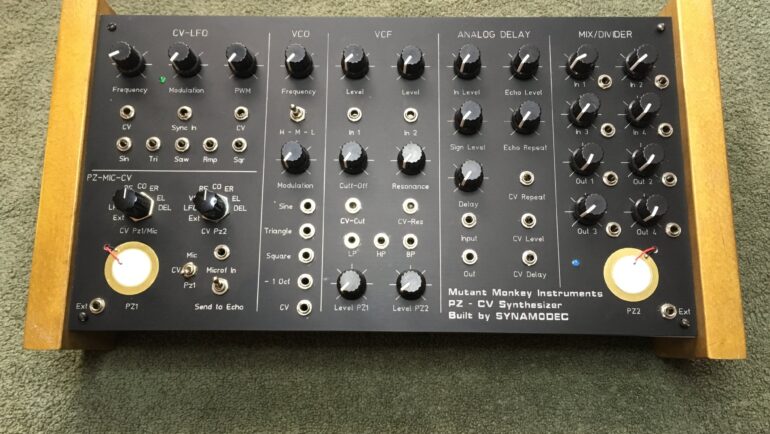 Mutant
Z-CV-Synthesizer, designed exclusively for Mutant Monkey Instruments of Barcelona, ​​is a semi-modular synthesizer and consists of an LFO with sin, tri, ramp, saw, and square outputs, frequency control and PWM, plenty of CV inputs as well as modulation level control, linear VCO with frequency control in three ranges, modulation control and a lot of extra features.